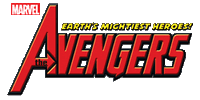 The Avengers: Earth's Mightiest Heroes is an American animated television series by Marvel Animation in cooperation with Film Roman based on the Marvel Comics superhero team the Avengers. The show debuted on Disney XD in Fall 2010 starting with a 20 part micro-series.

The series initially features a team based on the roster for the original Avengers, composed of Iron Man, Giant-Man, Hulk, Thor, and the Wasp. The team is later joined by Captain America, Black Panther, and Hawkeye in the first season of the series as well as Ms. Marvel and Vision in the second season.
In terms of tone and style, the series is based principally on the original stories by Stan Lee and Jack Kirby. However, it also tends to utilize material from all eras of the comic's run and other sources such as the Marvel Cinematic Universe.
Plot
Season One
As the world's most dangerous super-villains break out of the Vault, the Cube, the Big House, and the Raft, five of Earth's mightiest heroes assemble a crime fighting alliance called the Avengers. The Avengers team includes Iron Man as team leader, Ant-Man, Thor, The Hulk, and The Wasp. Captain America, Black Panther, and Hawkeye have since joined the roster. Who might be responsibility for which the Avengers opposes?
Season Two
After saving Asgard from a certain threat, Captain America got replaced by a Skrull imposter as other superheroes, supervillains and others have been and the imposters are manipulating events which leds to the Secret Invasion. Only few people know that might gonna happen and must do something to stop it before its too late but how can they trust anyone since the Skrulls had already infiltrated every organization in the planet?
Cast
Actor
Role
Brian Bloom
Captain America/Steve Rogers
Eric Loomis
Iron Man/Tony Stark
Rick D. Wasserman
Thor

Absorbing Man
Surtur
Ymir

Wally Wingert
Yellowjacket/Ant-Man/Giant-Man/Hank Pym

MODOC

Colleen O'Shaughnessey
Wasp/Janet van Dyne

Vapor
Cassandra Lang
Brunhilde

Fred Tatasciore
Hulk

Graviton
Frost Giant
Mandrill
Thing
Volstagg
Yon-Rogg
Griffin
Kalum Lo
Red Hulk

Gabriel Mann
Bruce Banner
Alex Desert
Nick Fury

Jack Fury

Vanessa Marshall
Black Widow/Natalia Romanova

Madame Hydra/Viper
Anaconda

Jennifer Hale
Ms. Marvel/Carol Danvers

Corrina

Chris Cox
Hawkeye/Clint Barton

Crimson Dynamo
Fandral
Peter Corbeau
Rattler

Phil LaMarr
JARVIS

Wonder Man/Simon Williams

James C. Mathis III
T'Challa/Black Panther

Bulldozer
King Cobra

Hakeem Kae-Kazim
T'Chaka/Black Panther
Elizabeth Daily
Mockingbird
Tara Strong
Veranke
Dawn Olivieri
Pepper Potts
Scott Menville
Bucky
Kari Wahlgren
Jane Foster

Enchantress
Karnilla

Bumper Robinson
War Machine/James Rhodes
Drake Bell
Spider-Man/Peter Parker
Nolan North
Balder

Jimmy Woo
Scientist Supreme
Living Laser
Piledriver
Chemistro
Scientist Supreme

Kari Wuhrer
Maria Hill
Troy Baker
Clay Quartermain

Blizzard
Grey Gargoyle
Whirlwind
Faradei
Ulik
Joseph Robertson
Sydren
Glenn Talbot
Michael Korvac
Constrictor

John DiMaggio
Eitri

Dum Dum Dugan
Madman

Peter Jessop
Vision
Graham McTavish
Loki
Jeffrey Combs
Leader
Robin Atkin Downes
Baron Zemo

Abomination

Mark Hamill
Klaw
Jonathan Adams
Kang
Steven Blum
Red Skull

Wolverine
Beta Ray Bill

Lance Henriksen
Grim Reaper
Jim Ward
Baron Strucker

Henry Peter Gyrich

Grant Moninger
Arnim Zola

Doughboy

Cam Clarke
Constrictor

Doc Samson
Vector

Danny Mann
Mad Thinker
Kevin Michael Richardson
Man-Ape

Groot

Cindy Robinson
Ravonna
Jean-Benoît Blanc
Heimdall

Wrecker
Black Knight
Frost Giant

Gary Anthony Williams
Thunderball
Clancy Brown
Odin
Nika Futterman
Sif

Hela

Keith Ferguson
Red Hulk

X-Ray

Roger Craig Smith
Captain Marvel
Wade Williams
Bi-Beast
Tom Kane
Ultron

Jasper Sitwell
Professor

Quinton Flynn
Malekith
Kirsten Potter
Lucia von Bardas
Kirk Thornton
Adam Warlock
Kyle Hebert
Lyle Getz

Super-Skrull

Crispin Freeman
Scott Lang
Loren Lester
Iron Fist
Christopher B. Duncan
Luke Cage
Jon Curry
Winter Soldier
Grey DeLisle
Betty Brant
Lance Reddick
Falcon
Dee Bradley Baker
Mister Fantastic
Erin Torpey
Invisible Woman

Invisible Woman (Skrull)

David Kaufman
Human Torch
Steve Downes
Star-Lord
Greg Ellis
Rocket Raccoon
Moira Quirk
Quasar
J. K. Simmons
J. Jonah Jameson
Lacey Chabert
Quake
Mary Elizabeth McGlynn
Abigail Brand
Neil Ross
Crossfire
Lex Lang
Doctor Doom
Kevin Grevioux
Terrax
Keith Szarabajka
Ronan
David Kaye
Supreme Intelligence
Brent Spiner
Purple Man
Dwight Schultz
Technovore
Crew
Trivia
The Avengers: Earth's Mightiest Heroes is the most faithful and comic accurate Marvel adaptation to have ever been created (other than the X-Men Animated Series, the Spider-Man Animated Series, and The Spectacular Spider-Man of course).
Community content is available under
CC-BY-SA
unless otherwise noted.