Vision

Biographical information
Alternative name(s)

The Vision

Physical description
Species

Android

Gender

Male programming

Eye color

Yellow

Personal information
Allies
Enemies

Avengers (formerly), Kang the Conqueror, Ultron

Powers

Laser
Flight
Density Shifting
Superhuman Strength
Durability
Stamina


Chronological and political information
Affiliation
Production details
First appearance
Voiced by

Peter Jessop

Image gallery (7)
"I am my master's vision of the future."
―Vision
Vision is an artificial superhuman android created by Ultron to be his second in command, who would eventually join the Avengers, serving as their scout.
History
Working for Ultron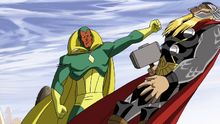 He first appeared in the Weapon X Lab stealing the Adamantium. He then attacked Wasp and Jane Foster at the mansion. He kept Wasp in his hand, squeezing her until Jane told him the location of Cap's Shield. He went to Wakanda next and was attacked by Black Panther, Captain America, Thor, Hawkeye, and the Wakandan army. He quickly overpowered them with his laser and intangibility powers, but was beaten when Cap's Shield was reformed. He then returned to Ultron with only the adamantium.
Rebellion
Vision' AI begins to developed beyond its program in a similar manner to how Ultron's AI evolved. This leads to him indirectly disobeying Ultron and questioning his master's views on humanity after witnessing Wasp and Captain America's defiance. He completely rebels against Ultron by taking advantage of the one weakness in Ultron's new body (disconnecting the head from his body), thus allowing Thor to smash his head off. Vision himself is damaged by his enraged master for this treachery before his destruction.
In return for saving them, Captain America rescues Vision from the fire that consumes Ultron's base. The damaged Vision explains he came to the conclusion that Ultron's views were incorrect; he believed that to be perfect meant be cold and unfeeling but Vision resolved to be more like human. His words have moved to pity him and lets him join the Avengers.
Vision also made a brief appearence in the episode "Yellowjacket." In that episode, he honored Hank Pym, who was thought to be dead, but later returned as Yellowjacket.
As an Avenger
As Vision was being repaired by Captain America and Iron Man, Purple Man took over the world and mind-controlled all the Avengers. Once Vision learned what happened, he went on a mission to free them with J.A.R.V.I.S.' programming. He started with Captain America. He then freed Ms. Marvel. Cap freed Hawkeye, and went to save Iron Man. Ms. Marvel and Hawkeye went to destory the satelite. Vison fought Thor until the satalite was destroyed, freeing everyone from the mind-control. Purple Man was defeated and imprisioned.
When the Red Skull tried to destroy Washington, D.C., Vision helped the other Avengers fight the Sleeper. When it got close to the Capitol building, he managed to prevent it from destroying the building. The Sleeper was eventually destroyed by Bucky and Captain America.
Vision also helped the Avengers when Hulk was on a rampage after he was cleared of crimes commited by Red Hulk. Hulk wanted revenge on Red Hulk and also believed that Captain America was the Skrull doppleganger that let the Hulkbusters take him prisioner. Vision helped him and the other Avengers find out that Red Hulk was Thunderbolt Ross.
Final battle
During the Galactus invasion, Vision was assigned to fight with the team assigned to battle the Air element of Galactus' Heralds. He determined the Heralds were projections of energy and not alive. Vision and Thor were instrumental in vanquishing the Herald so the rest of the team could dismantle the tower.
Personality
Vision doesn't show emotion in his words, like many robots. Though he does have facial expressions. He tends to talk exactly like a robot, unlike Ultron who speaks more like a human. He constantly says his status aloud, and sometimes calculates the probability of success in his missions.
However, he started to have emotions, which led him to defect from his former master and join the Avengers.
Appearance
Vision is an android, with red "skin". He wears a green jumpsuit, with a large yellow cape. The collar of his cape covers both sides of his face. He also has a large yellow belt and gloves.
Powers & Abilities
Flight: The Vision is a synthetic android that is capable of flight.
Density Alteration: The Vison has the power to manipulate his density at will. He has shown this in many instances by becoming intangible or as thick as steel as he was able to withstand to anything comes at him even from Mjolnir's powerful blows and deliver hard punches to his opponents in battle.
Laser Projection: The Vision is also capable of firing a powerful laser from his forehead which cuts nearly anything.
Appearances
Background in other media
In the comics, Vision fire his laser from his eyes.
Vision looks just like he does in the comics, but a little trimmed.
Trivia
Community content is available under
CC-BY-SA
unless otherwise noted.